This post is inspired by my lovely sister, who bought me a Cat Power limited-release record when she was in Sydney recently. Chan Marshall, aka Cat Power, is not only a strong, successful woman, but she also has some rather enviable style (
as noticed by Mr Lagerfeld
himself). I'm not sure I could really pigeonhole her style (though admittedly, "Chanel-like" would not be my first option), but the elements I admire is that she manages to look effortlessly cool while still giving off the I-just-got-out-of-bed-with-guitar-and-cigarette vibe.
With a Bob Dylan shirt (!! Another one of my favourites) and, ahm.. if I'm not mistaken, forgoing the Brazilian, but still look very rock chick.
Although this is from an editorial so not Chan Marshall's personal style directly, I am in LOVE with the jacket in the second picture. And the shirt. And whatever she has on her wrist.
Another could-be-just-thrown-together-but-still-looks-amazing look. I think it has to do with her hair. A straight fringe (or, bangs, depending what side of the ocean you're from) always seems to raise people's style factor by at least a couple of points.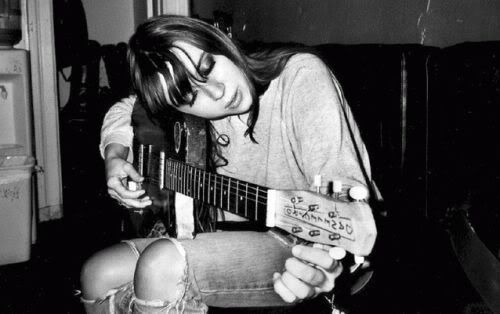 As said in
Not Another Teen Movie
(...never thought I would quote that here), "Any chick with a guitar is hot." Even while wearing jeans that even Kurt Cobain might shy away from for being too holey.
For Cat Power style:
Be outspoken and passionate for what you believe in. Confidence is always sexy.
Smudge your eyeliner.
Cut a blunt fringe.
Learn how to play guitar. (Bonus points for gorgeous husky voice).
Blazers and jeans are key for an effortlessly chic look.
If you want more:
To the sea, the sea of love...
x